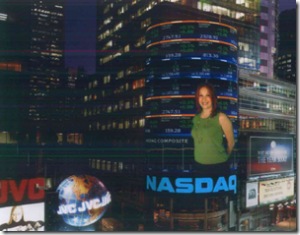 Vykky who has already fulfilled her dreams of being on Broadway by being in the original casts of Tommy, Caberet and then a few other off Broadway hits is now off doing something else. Tried to get her to come down to be my Assistant Manager of F&B but she wisely turned me down and went on to work for a private equity firm. Which leads to our Mom sending me this picture of Vykky all big and stuff. Whew…how can I top that?
Mom says I am her favorite but sheesh…maybe she is just being nice.
If you liked my post, feel free to subscribe to my rss feeds

Stumble It!