Sheesh Forgot to put a obvious link to Appleseed! Click Here!
Wow what an experience. I grew up handling rifles, handguns and shotguns imagining my whole life that I knew what I was doing. To a certain extent I did as did the other 18 who joined me for a terrific experience in the 90+ heat of Southern Louisiana. But, I quickly realized that Don, the gentle retired physics professor from Kentucky who volunteered to be our instructor, knew a lot more than me and indeed more than the small group of Marines who joined us. We learned about dragging wood, NPOA (Natural Point of Aim), how to use a sling, tighten up groups, breathing, zero sights and in general how to focus on getting hits on the AQT Army Qualification Test from the standing, sitting and prone positions.
We learned this from a man who was slight of build and had a gentle voice with a Kentucky drawl. Part of the weekend is spent hearing the story, as told by Don, of the first day of the Revolution. In his soft Kentucky drawl he told us of the bravery and determination the fighters for this nations freedom had…it was an amazing experience since as he was telling us a story too many of us are not familiar with the other rifle range continued operations. Against the backdrop of the crack of rifles we heard about the ambushes, the sacrifices, the tragedies and the horrors of the war. Horrors that our founders faced squarely. Don was an amazing instructor who volunteered to drive here from Kentucky to run this shoot…he is a man who knows what he is about. His wife rocks too!
Apparently he was also pretty darn good at teaching shooting since out of the 18 who came 6 qualified as riflemen before the two days were through. Looking at other Appleseeds and their success ratio this seems to be a testament to Louisiana shooters as I don't think most Appleseed events have that sort of success ratio. Btw I did not qualify…my top score was 178 with, you guessed it Don's rifle.
Karen, the Warden/Wife, went with me to see what it was about…Don didn't think that the Marlin Papoose she was shooting was doing her any favors since as a survival rifle it is very short and not really meant for taking precise shots. He lent her his Ruger 10/22 that was tricked out with a Hogue Stock, Tech-Sights, and a variety of other neat stuff. Well as soon as he did this she started shooting extremely well. Don had created a monster! He thought that was pretty neat…I thought it was awesome!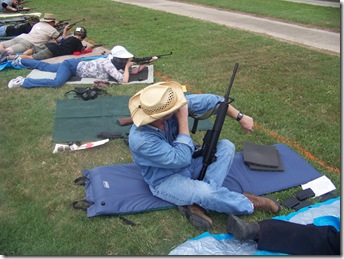 Here my friend Larry and my wife, with the white cap, are preparing for a session. Take a look at Karen's form…knee up, support elbow under the rifle, trigger finger NOT dragging wood, great cheek weld and the resulting group proved the beauty of her form.  This is Saturday and it is about 95 degrees. That night Karen dragged me to Academy sports to find a Ruger 10/22…the clerk offered her a pink one. She smiled and said that nah let me see the black one. Tried it out and told me that she didn't like the way the stock fit her, the cheek weld wasn't right, said that we would have to find a Hogue Stock and other other tricked out stuff…clerk's jaw dropped.
Well worth the money I donated to attend the second Louisiana Appleseed shoot held at Sherburne Shooting Range
The video at the bottom takes you through the entire cycle of the qualifying for Appleseed. We are shooting at the old Army Qualifying Targets set at 25meter. They simulate shots against 100, 200, 300 and 400 yard targets.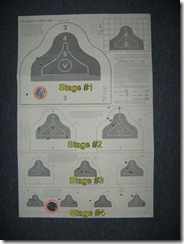 I am shooting a Garand purchased from the Civilian Marksmanship Program. It is a Service Grade Rifle that is a tack driver…unfortunately the owner is not. I was telling everyone at the shoot that it was $495 but when I got home it was a bit more than that…$595, oops sorry fellas. My best score with the Garand was 167 or so. My best score with Karen's favorite rifle, Don's 22 was 178. I will qualify with my Garand. Anyways enough talk on with the video.
That is Don walking along the back of the line…during the prone position firing you will see him walk up and correct my "dragging wood".
All in all a fantastic weekend with some terrific folks participating! Thanks Hank! That Brown Bess you allowed all of us to shoot was the perfect ending!
If you liked my post, feel free to subscribe to my rss feeds

Stumble It!